ADD EXCITEMENT INTO YOUR DIGITAL MARKETING STRATEGY TO KEEP CUSTOMERS COMING BACK.
Consumers are seeking experiences just as much as they are seeking savings. New and exciting mobile marketing trends will boost sales and engagement for your small business.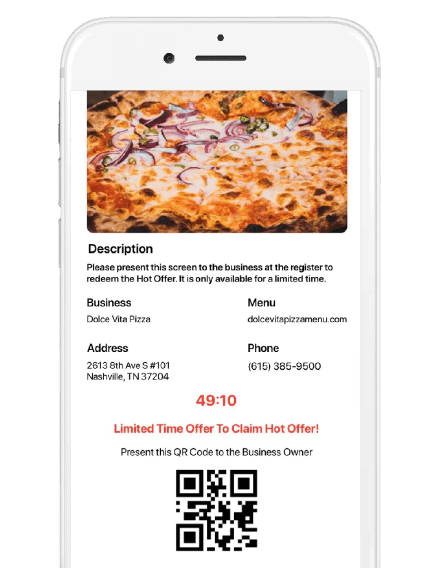 WHAT MAKES HOT OFFERS FUN AND EFFECTIVE?
79% of consumers search for local coupons on their mobile device before they a make purchase. There are 230M consumers who own a smartphone and more than half of them are searching for an easier way to connect with your business and find your exciting deals.
How to Use Hot Offers
Create FOMO – Fear of Missing Out is a real thing and most consumers won't risk missing out on the chance to snatch up that awesome 25% off deal. Especially, if they think it's a once it's gone, it's gone forever. Create urgency and appeal to the customers while they are shopping.
Strategic Timing: Use Hot Offers when it makes the most sense for your business. Use it to increase foot traffic during slow times at the restaurant or retail store. Increase average order value and attract spontaneous buyers. Set a timeframe for the deal to exist in the app. Once the digital timer expires the Hot Offer disappears forever Well, unless you decide to run the campaign again.
Attract More Customers: Use Hot Offers to encourage customers to share your business and offers on social media. Give an extra 10% for users who promote you to their social media networks.
Increase Engagement: Implement Hot Offers into your social media strategy. Announce a surprise sale or exclusive discount and keep customers on the edge of their seats waiting to see what new deals you'll create next.
Generate automatic Hot Offer Referrals: Our newsfeed automatically displays the Hot Offer activity of users who opt to their activity. So, when customers redeem a Hot Offer at your business other users see it when they log in.
Why the digital timer creates a more effective coupon?
All coupons should have an expiration date. Some coupons are good for a month or longer. There are some reasons for longer coupon deals but this often wills the customer to save the coupon and tuck it away for a rainy day. Shorter expiration dates and shorter redemption times moves the customer forward in the decision making process quicker.