Amazon Web Services (AWS) recently selected Nodat's founding team (myself and Ryan O'Neal) to participate as 1 of 25 startups in the inaugural 8-week AWS Impact Accelerator for Black Founders. Yesterday marked our 8-week endpoint of the cohort. The subversive accelerator has been intense, impactful, and exciting from day one. In this post, I will share our experience and the impact the accelerator has on our professional and personal growth as founders . I've received many requests from founders via LinkedIn asking if it's worth it to apply to the next cohort. I hope to answer that question. Specifically for women founders who may want to apply for the AWS Impact Accelerator for Women Founders next month.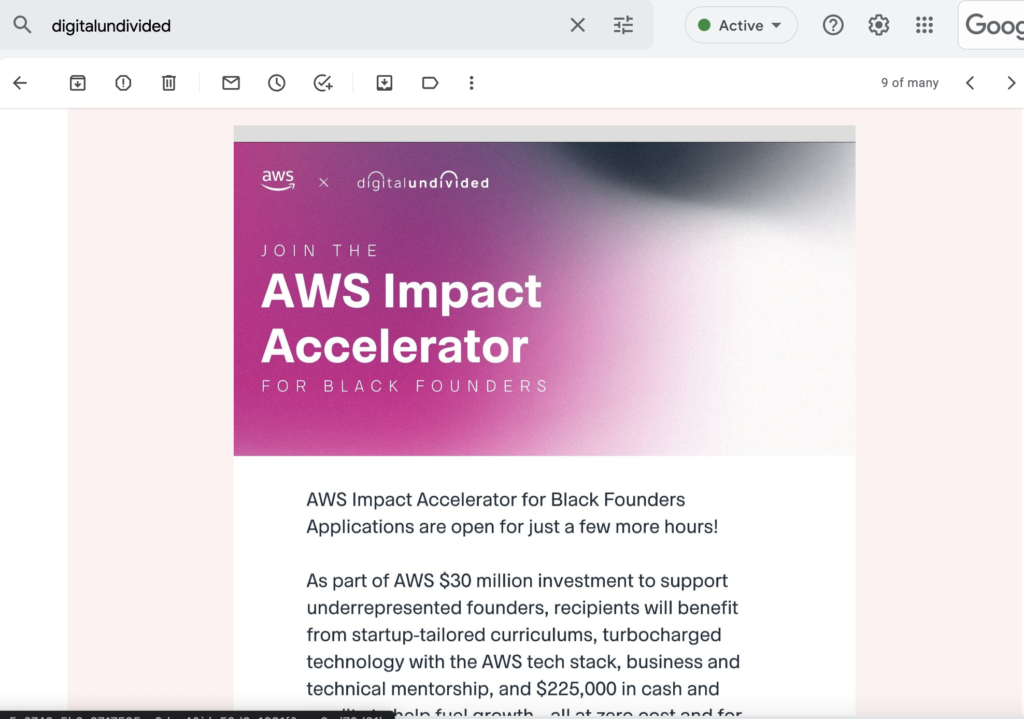 The reason we applied – On May 13th, a newsletter from digitalundivided, the leading non-profit that catalyzes economic growth for Latina and Black women entrepreneurs came into my inbox. It was the first accelerator option I had come across for Black founders offering more than mentorship in a while. But, just a few hours were remaining to apply. So, I clicked the link and worked on my submission late at night.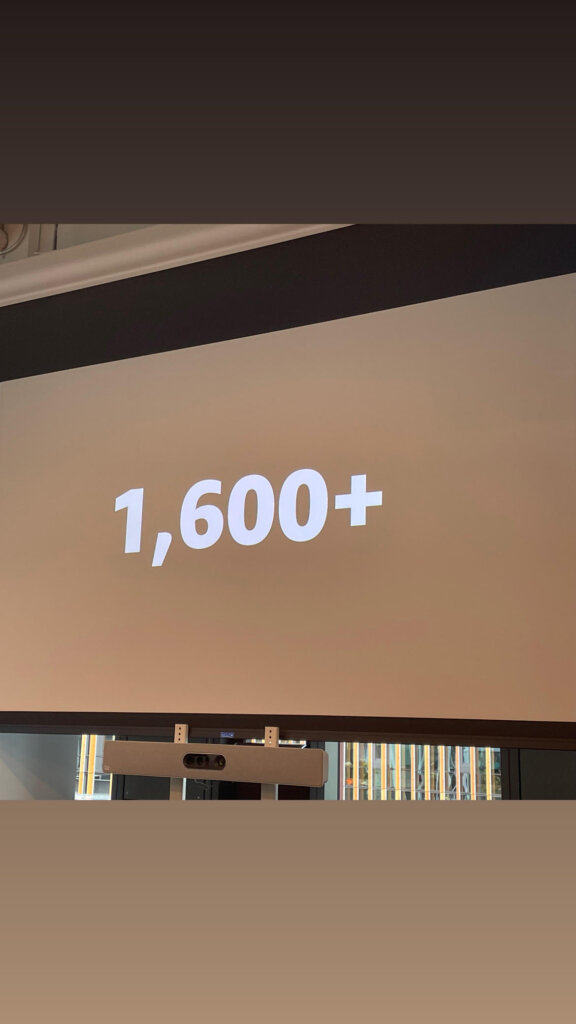 After 1600+ applicants, a phone interview, and a 10 -minute pitch with a 20-minute Q&A, I received an email from Denise Quashe saying they still had a few questions and needed to meet soon as possible. I immediately scheduled a 6 pm meeting that night. A second email came informing me that the VP of Global Startups for Amazon, Howard Wright, would be joining the discussion. I called my advisors and got to work prepping for the final questions.
To my surprise, the emergency meeting was Denise and Howard wanting to know if I would be able to meet them in Seattle in a few weeks. It did not dawn on me we were selected for the program. So, I answered yes confidently and stared anxiously for the more complex questions about our technology. Howard then turned the camera to his entire team at AWS and said, "Are we going to invest in Aireka? If so, thumbs up!" Everyone put up their thumbs and said, "Welcome to Amazon Aireka!" I gasped and cried!
June 4th – Off to Seattle, Amazon Headquarters
The first week of the accelerator began in Seattle at the Amazon Headquarters, where the program executives greeted us with lots of cool AWS swag. Next, the DJ filled the loft with music and energy. Finally, a table spread with gourmet breakfast foods from local vendors suiting all diet types. As the 25 startups gathered in the meeting area to nervously network, we waited for instructions on what to do next.
That's when Derek Pham introduced us to an ice breaker; he would become known as the Ice Breaker King and our primary contact. Derek went over the expectations for the program, and we got down to serious work. During the week, many Amazon Executives mentored us, and we met inspiring entrepreneurs who accomplished what we aimed to achieve. For example, the founders of Squire (Songe Laron & Dave Salvant), a barbershop tech platform, shared their story of trial and error that led them to build a company valued at nearly a billion dollars. The line to speak with them at the networking hour was long but worth the wait.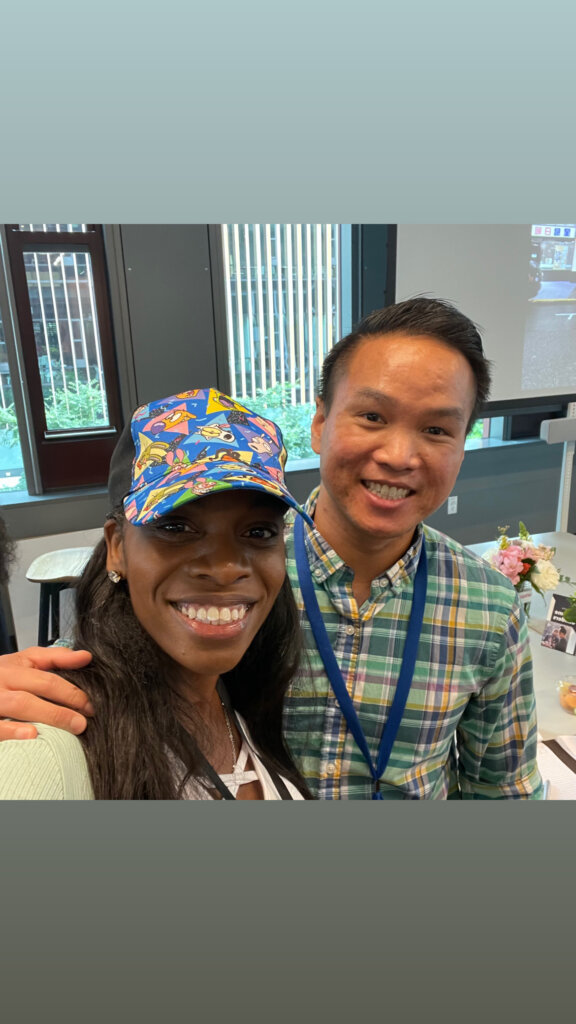 We met with executives from LinkedIn who helped us improve our profiles and optimize them for customer acquisition and investor outreach. Since that session, my page has grown to 2,500 followers and over 500+ connections. The engagement on our company page has increased also. In addition, we met with marketing and growth experts who would later coach us on creating strategies for increasing customer acquisition. Finally, the leadership roundtables with Visible Hands helped us hash out our fears about the future and transparently open up with other CEOs.
CTO Benefits
The CTOs for each startup pair with tech solutions analysts and executives from the AWS technical team. Ryan received the connections for ongoing support to accurately set up our architecture and secure our products on the AWS cloud servers, switching to EC2s and S3 servers. In addition, Ryan networked with all of the CTOs and tech analysts at AWS and participants in the program. As a result, he now has a network that can help him think through more complex challenges as a CTO. This opportunity was heaven to him!
We had fantastic fun events during the entire week of workshops, panels, roundtables, and curriculum! Clubhouse suites at the stadium with front row seats to the Seattle WNBA game and a fancy dinner at the WOW Museum, where Denise gave a speech that had every woman founder in the room crying out of appreciation.
Week one was off to a fantastic start!
Weeks 2 – 7 virtual and Slack Community
The virtual component of the accelerator was just as intense, if not more. Each week consists of hour-long workshops three to four times a week. Workshops include:
Fundraising and cap table management with the Carta team.
Storytelling with Terry Rice.
Pitch deck design with DocSend.
AI/ML mentoring with AWS and weekly meetings with our Business Development mentor Courtenay Gras helped us set realistic and actionable KPIs, which we crushed for the most part. However, during weeks 2-7, Nodat increased our daily active users by 35%, downloads by 633% weekly, and our revenue increased 23%. We are also in talks with a growth partner whom I cannot name just yet. Amazon also provided me the opportunity to give the keynote for one of their community partner events!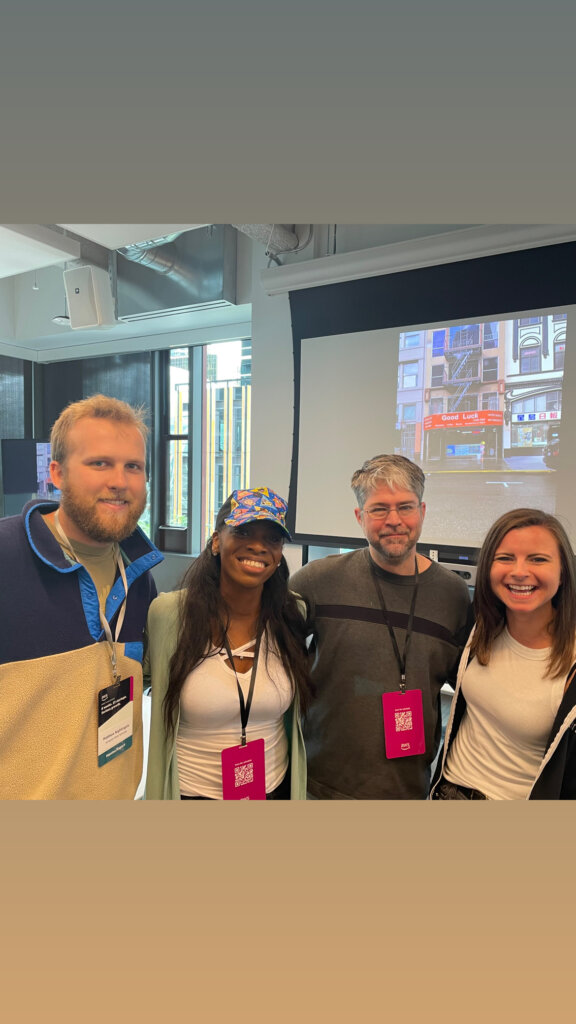 Let's not forget to mention the community we built with the startups through our Slack channel. The support amongst the teams was outstanding! For example, David Asberry, co-founder of Rush Roto, did the graphics for our website, and I helped him with a few pointers on pitching his company through storytelling. In addition, I flew out to NY for Black Women Talk Tech to support Tope Mitchell, co-founder of Reflekt Me, as she spoke on a panel, and Sharon Obuobi, the co-founder of Oarbt; also pitched and placed! Finally, Teasha Cable, co-founder of CModel, and I flew to Cincinnati for Black Tech Week and shared a room where we brainstormed and figured out how the two companies could collaborate. Oh, we had front-row seats to hear Serena Williams speak as well! EPIC!
The Final Week – Week 8
The final week of the accelerator ended in Manhattan, NY, at the AWS Startup loft. Our rooms were at the Soho Grand, where the concierge met us with Champagne to celebrate our arrival. The week was packed with pitch practice with performance coaches Allison McGuire and Marlo DiCastro from The McGuire Method. That was intense but helpful. Before their coaching, I struggled immensely with telling our origin story and getting to the point fast enough. But, with their help, I believe I wowed the panel of investors. I know I did when one of the investors used Nodat in a sentence and immediately hooked line and sinker!
Courtenay connected our team with mentors through her TechStars network, who helped redesign our pitch deck to make it more precise and concise. I was so proud! I felt like a Silicon Valley startup. As I watched my counterparts pitch their startups, I couldn't help but notice how much we have improved in just a short time. For example, Osi, co-founder of Heroshe, increased his revenue 2x from $350K to $750K in just eight weeks! Proving an opportunity provided is a lifeline given.
I could go on and on, but this post is pretty long already. So instead, I hope I answered your questions regarding if it's worth your time to submit for the next cohort. Do it only if you want intentional help from people who understand the challenges you face as a minority founder and want to see you win.
Thank you to the entire AWS Impact Accelerator team.