Have you noticed the newsfeed traffic and engagement from your Facebook and Instagram followers on a steady decline? It's not you and your content doesn't suck. You're still interesting and fabulous as you've always been.
There are over 65 million business pages on Facebook and 50 billion pieces of content published to their newsfeed every month. So, the social media giant decided to slow organic traffic to make room for the large amounts of content on their newsfeed. There is some pretty steep competition when you take into consideration Facebook's daily numbers.
1.66 billion daily active users
4.75 billion pieces of content shares – daily
300+ million photo uploads – daily
510,000 comments – every 60 seconds
293,000 statuses – every 60 seconds
But don't worry…  there is some good news and we'll share a few things in this series you can do to ensure your target audience sees the content, new product announcements, sales and discounts from your newsfeed as well as other marketing channels.
How does the Facebook Newsfeed Algorithm Work?
First, let's talk about how the new Facebook algorithm works. Facebook uses thousands of pieces of data to determine what content is relevant to a user. Facebook and Instagram's number one priority is to keep users engaged across their ecosystem. The algorithm is focused on serving content and messaging with the highest engagement and relevance. Emotional resonance and sentiment around content matters on the platform as well." — Lauren Guerrieri, Senior Manager of Paid Social at Tinuiti
The algorithm is broken down into four buckets:
Inventory – all post available to display
Signals – how many people react to a post through likes, shares, and comments
Predictions – how each user will react to each post with their friends
Score – scores it for relevancy to a user and shows it higher in their newsfeed
"Because space in the News Feed is limited, showing more posts from friends and family and updates that spark conversation means we'll show less public content, including videos and other posts from publishers or businesses." – Facebook, 2020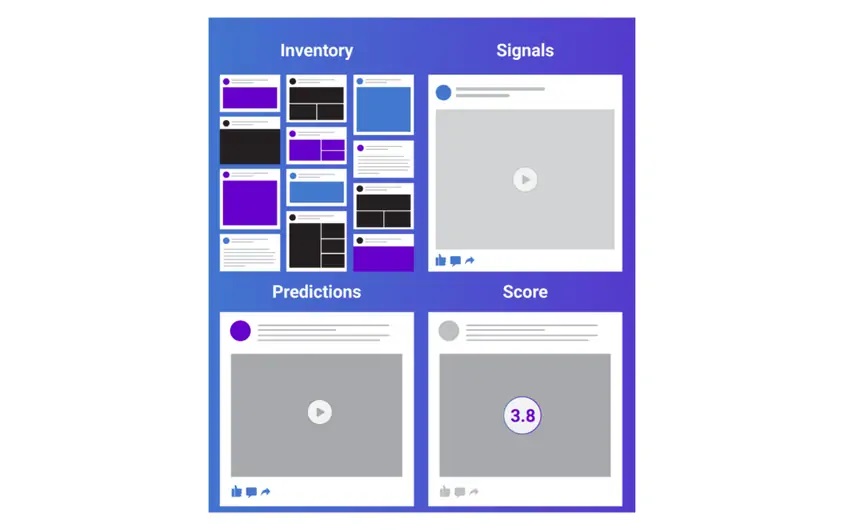 So, this means unless you publish content to your Facebook business page that users are more likely to spark a conversation about, your content will be seen less frequently unless you pay to play or people who want to see more posts from Pages they follow can choose See First in News Feed Preferences to make sure they always see posts from their favorite Pages.
All is not lost so, don't let the information we've shared so far discourage you from giving the platform the right amount of attention in your marketing strategy. Let's shift to some simple and quick ways to fix it.
7 Things you can do right now to increase organic newsfeed traffic
Build the right fanbase. If your followers don't engage then they negatively impact your influence. Back in 2017 Facebook quietly removed inactive accounts from the platform. This was to help increase meaningful engagement for people who are using the platform to connect with family & friends, as well as businesses who want to connect with users who are more likely to become customers. This is why many brands have shifted their focus to partnering with micro influencers who have less than 100,000 followers.
Create content that ages well. (Evergreen) content is content that will always be relevant to your followers. They return to it years later and it will be as relevant as the day you posted it. An example of evergreen content would be an article or video explaining the history of marketing. The article you reading now would be considered evergreen content for Nodat!
Create a private Facebook group for your most engaged followers. This is a great way to listen and engage with your super fans. Growing a Facebook group that provides value for your business and making sure it doesn't become another group with random posts requires a great strategy. Give some of the members admin or moderator permissions to help you keep members engaged and on track for the purpose of the group.
Use organic post targeting. This feature will allow you to target the right audience the same way you would choose targeting for your Facebook Ads. Your post needs to have at least 20 followers selected so, if you have less than 5000 page followers it won't be much help.
Partner with other Facebook Pages in your niche. Offer a shoutout for a shoutout deal where you share each other's blog post, offers, etc. Find another page or group within the same follower count as you and help each other grow. Partnering with someone with a larger audience will be kind of difficult if you aren't able to provide the same value to them.
Use customer advocacy to grow your brand. Offer your followers an incentive to share your post to their social media networks. Having contest that offer rewards for the most shares, Facebook reviews, or content tags will help increase your presence on the platform.
Run an effective Facebook Ad. Boost an article post or video that is getting a high amount of engagement. This is a great indicator that it would perform well as an ad therefore, increasing traffic to your page.

Facebook is great for business and a definite must have. But, it's no secret the platform proposes some challenges for small businesses due to the decline in organic newsfeed traffic. That's why it's important to implement other marketing channels into your strategy. Another thing you can do to increase traffic to your business and website is to offer a time-sensitive limited offer on Nodat. Hot Offers allows you to run quick sales or promotions to increase urgency to buy. It amplifies the "Buy Now" effect.

Subscribe To Our Newsletter
Struggling to attract or keep customers in your local area? Subscribe to Nodat's small business marketing blog to learn strategies that will help you get and keep more local customers.