Are you trying to figure out how to move your small business online using Facebook Shops? Recently, Facebook rolled out a new version of this feature called Facebook Shops to help struggling small businesses bring their business online. At first glimpse, you may not understand the difference between this new shop and the previous shop button on your Facebook business page. Don't worry, we didn't either. But, it's actually pretty cool! Grab a cup of your favorite local coffee and let's dig into 7 tips to help your small business sale more online using the new Facebook Shops feature.
First let's discuss the differences between what you've been using, what Facebook has now made available and why you should switch to the new feature.
Facebook Shop Button
Most e-commerce businesses use this button to promote their products and services and increase sales, to gain extra exposure, to make it easier for customers to shop with them and find their most popular products. The "Shop" button on your business page is basically a static storefront that either leads the customer to a collection of products you have setup on your Facebook page, a Shopify store, or your website. It was used primarily as an easy way to shop popular products and not as the actual store. The Shop button can be found on both Facebook and Instagram, but they have to be set up separately. To find your shop or to be notified of new products customers must follow your business page.
Facebook Shops Feature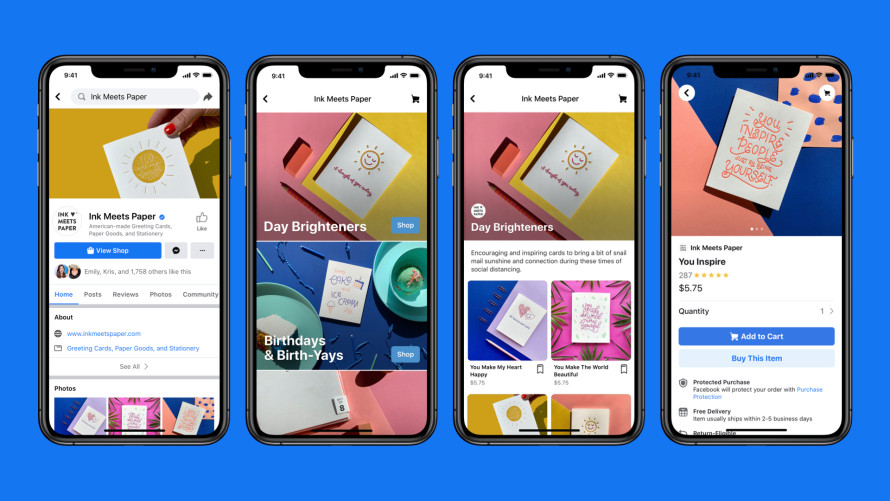 Facebook Shops make it easy for businesses to set up a single online store on both Facebook and Instagram. Shops is no longer just e-commerce brands. It can now be used by brick and mortar to move sales online. With this feature your shop can be found by new and existing customers. Choose products you want to feature and customize the look and feel with a cover image and accent colors that showcase your brand.
Your shop can be found and accessed on your business page, through stories, and Facebook Ads. Your customers can browse the full collection of products and categories and save them for later or immediately buy. For example, a local restaurant can add a menu to Shops and as users browse through stories, they can place an order right from the story. Cool right?
Facebook Shops is set up to feel and operate just like your physical store. So when a customer needs to ask someone for help, in Facebook Shops they will be able to message your business through WhatsApp, Messenger or Instagram Direct to ask questions, get support, track deliveries and more.
Instagram Shop
A new way for your customers to discover and buy your products is in Instagram Explore. You can get inspired by collections from @shop, browse selections from your favorite brands and creators, filter by categories like beauty and home, and purchase the looks you love all in one place.
Live Shopping Feature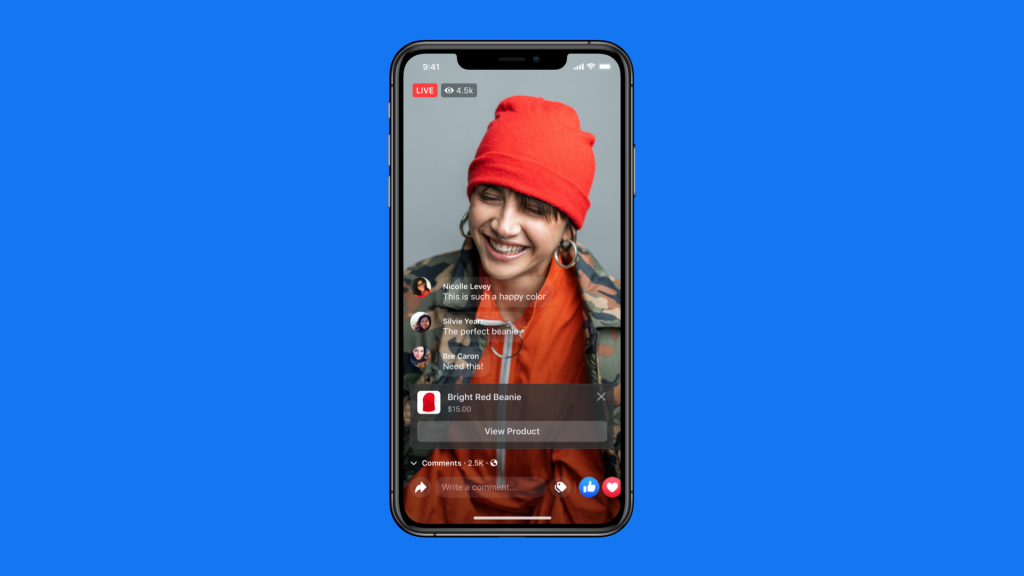 This is the biggest difference between the previous shop button and the new Facebook Shops feature. Previously, sellers have been using Facebook Live to showcase new products. Now, a seller can tag a product from their shop before going live and those products will be shown during the live at the bottom of the screen, allowing users to tap the image to learn more or instantly purchase the product. Currently, it's available to a few businesses but FB has plans to roll it out to a broader audience over the next few months. This is a game changer for you small restaurant owners. Now, you can receive orders directly through a FB Live video.
Facebook is partnering with Shopify, BigCommerce, Woo, Channel Advisor, CedCommerce, Cafe24, Tienda Nube, and Feedonomics to help brands bring their products into Facebook Shops.
Visitors to your store will also be able to use AR to virtually try on things like sunglasses, makeup, and even furniture — a lot like Instagram's augmented reality shopping feature.
Extra Tip: Use Nodat's Hot Offers feature to create time-sensitive offers. Then, promote them during your Facebook Live to get customers to act within a specific amount of time. Sign up to use Hot Offers free for 3-Months at the form below.
Setting up Your Facebook Shop
You may need to create a Commerce account in Commerce Manager to get started.
To set up a shop on Facebook, you must:
Be a Business Manager admin
Own your Facebook Page and catalog in the same Business Manager
Have Manage Page permissions for the Page and Manage catalog permissions for the catalog in Business Manager
To set up a shop on Instagram, you must:
Be a Business Manager admin
Own your Instagram business account, Facebook Page and catalog in the same Business Manager
Have Manage Page permissions for the Facebook Page connected to the Instagram business account
Have Manage catalog permissions for the catalog
Create your shop
You need to use a computer to set up your shop in Commerce Manager.
Go to 

Commerce Manager

.

Click Get Started to go to the 

Create Your Shop

 page.
In the Start Setting Up Your Shop section, select Your Website. Click Get Started.
In the Choose Your Business section, you'll see a list of Facebook Pages you're a Page admin on. Select the business you'd like to add your shop to. Click Next.
In the Account Details section, provide an Account Name and select a Business Account. Click Next.
In the Where People Can View Your Shop section, select where you'd like to create your shop. If you have an Instagram business profile and a Facebook Page, you can select both.
In Catalog section, select an existing catalog or create a new one and click Next.
Look over your shop details, review and agree to the Merchant Agreement and click Create Your Shop.
You've now created your shop. Next, you'll want to:
Create a collection

.

 You can create collections of 6 to 30 products.

C

ustomize your shop

.

 You'll choose your featured collection and customize the look and feel of your shop.

Publish your shop

. Facebook will review your shop over the course of 24 hours. Once they approve it, your shop will be shown to the world!
Once your shop has been approved and can be accessed by users, you'll want to create a strategy for making Facebook Shops work for your small business. That means creating strategies for:
Facebook Live Shopping
Facebook/Instagram Story Shopping
Instagram Explore Shopping
Mobile Coupons
Implement a Loyalty Program that works with Facebook Shops
If you're a small restaurant create a strategy for how you will process orders that come Facebook
Claim your 3-Months Free of Hot Offers. Create offers that get customers in the door and coming back for more.
Subscribe To Our Newsletter
Struggling to attract or keep customers in your local area? Subscribe to Nodat's small business marketing blog to learn strategies that will help you get and keep more local customers.